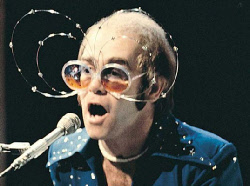 Sir Elton John, is an English rock singer-songwriter, composer, pianist and occasional

actor. He has worked with lyricist Bernie Taupin as his songwriter partner since 1967;

they have collaborated on more than 30 albums to date.

In his four-decade career John has sold more than 250 million records, making him one

of the most successful artists of all time. His single "Candle in the Wind 1997" has sold

over 33 million copies worldwide, and is the best selling single in Billboard history. He

has more than 50 Top 40 hits, including seven consecutive No. 1 US albums, 56 Top

40 singles, 16 Top 10, four No. 2 hits, and nine No. 1 hits. He has won six Grammy

Awards, four Brit Awards, an Academy Award, a Golden Globe Award and a Tony Award.

In 2004, Rolling Stone ranked him Number 49 on its list of the 100 greatest artists of

all time.