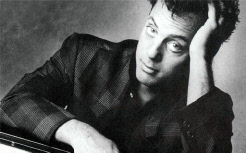 Billy Joel is an American pianist, singer-songwriter, and composer.

Since releasing his first hit song, "Piano Man," in 1973, Joel has

become the sixth best-selling recording artist and the third best-selling

solo artist in the United States, according to the RIAA.

Joel had Top 40 hits in the 1970s, 1980s, and 1990s, achieving 33 Top 40

hits in the United States, all of which he wrote himself. He is also a six-time

Grammy Award winner, a 23-time Grammy nominee and has sold over 150

million records worldwide. He was inducted into the Songwriter's Hall of Fame

In 1992, the Rock and Roll Hall of Fame in 1999, the Long Island Music Hall

of Fame in 2006, and the Hit Parade Hall of Fame in 2009. In 2008,

Billboard magazine released a list of the Hot 100 All-Time Top Artists to

celebrate the US singles chart's 50th anniversary, with Billy Joel positioned

at No. 23.