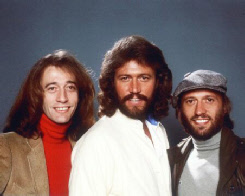 The Bee Gees were a musical group founded in 1958. The group's line-up

consisted of brothers Barry, Robin, and Maurice Gibb. The trio were

successful for most of their decades of recording music, but they had two

distinct periods of exceptional success: as a pop act in the late 1960s/early

1970s, and as prominent performers of the disco music era in the late 1970s.

It has been estimated that the Bee Gees' career record sales total more

than 220 million, ranking them among the best-selling music artists of all time.

They were inducted into the Rock and Roll Hall of Fame in 1997; the presenter

of the award to "Britain's first family of harmony" was Brian Wilson, historical

leader of the Beach Boys, a "family act" also featuring three harmonising

Brothers.